Representation Asia | BioPontis LLC.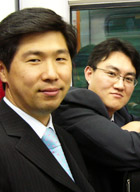 BioPontis LLC. is specialized in pharmaceutical licensing and development including generics, biosimilars, new chemical entities, and super generics between Asia and the other world. BioPontis operates two offices; one is in Seoul, South Korea and the other is in the U.S. Pennsylvania. BioPontis has a great network in Asia with long experience in the pharmaceutical field.
BioPontis is looking for potential partners who have products for Asian market, especially for Korean market. BioPontis has qualified strategic alliances in Asian countries, who help us get market information, find good partners, and get registration. BioPontis is also the representative of some Korean companies who have great products and technologies for world wide market. We are doing jobs to find good Korean products on the requests from overseas companies.
BioPontis is willing to discuss market potential and opportunities with your products for Asian market and also meet companies who are looking for Korean products.
Jungwoo Yi, M.Pharm, M.B.A. is the Managing Director of BioPontis, Seoul Office. He has over 10 years of experience in the international pharmaceutical industry. He has worked in sales and marketing for Bristol-Myers Squibb and business development for Kuhnil Pharmaceuticals. Mr. Yi also obtained his Master of Pharmacy from ChungAng University in South Korea and MBA from Thunderbird, the Garvin School of International Management. Now, he is also managing the Seoul office.
James Kang, M.Sc., M.B.A., CEO and President, is a trained pharmacist with over 10 years of experience at Roche, Hanmi Pharmaceuticals and Youngjin Pharmaceuticals. He specialized in licensing, business development and marketing. He obtained his Master of Science in Pharmacy at South Korea's premiere pharmaceutical program and later obtained his MBA from the University of Pittsburgh.