Thomas Diller, Dipl.-Des.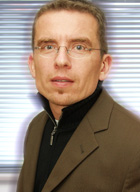 Managing Director, diller.corporate GbR, Cologne, Germany


Particular area of expertise: Corporate Communications, Communication Strategy, Corporate Design, Web Design, Cross Media, Photography
Thomas Diller is a graduate of design and managing director of the Cologne-based diller.corporate GbR which specialises in the development and design of corporate communications for small international businesses and institutions. After studying graphic design and photography, he initially worked for a number of publicity agencies, finally focussing in 1997 on the fields of Health Care and Life Sciences.
He contributed to the book »Starting a Business in the Life-Sciences: From idea to Market« (ECV – Editio Cantor Verlag, 2002) on the subjects of corporate communications and corporate design.
Projects and services (among others):
• DKG – Deutsche Krankenhausgesellschaft (Board of German Acute Care Hospitals), Berlin • Kuratorium zur Förderung Deutscher Medizin im Ausland e.V., Bonn • GerMedic GmbH, Köln • BDPK – Bundesverband Deutscher Privatkrankenanstalten (Board of German Private Hospitals), Berlin • Arbeitskreis Gesundheit e.V. (Board of German Rehabilitation Hospitals), Bonn • OctoPlus B.V., Leiden / The Netherlands • Diatos SA, Paris / France • Nanomi Monosphere Technology B.V., Oldenzaal / The Netherlands • InScreenex GmbH – Cellular Screening Technologies, Braunschweig • Deutsche Rheuma-Liga Bundesverband e.V., Bonn • LTS Lohmann Therapie-Systeme GmbH, Andernach • ROKD Medical Software GmbH, Bielefeld • e-trend Business Consulting GmbH, Bielefeld / Amsterdam / The Netherlands • Köln/Bonn International Airport GmbH • AHS – Aviation Handling Services GmbH, Hamburg / Köln • Deutsche Lufthansa AG, Köln • Rhön Klinikum AG, Bad Orb • Mediclin AG, Frankfurt am Main / Offenburg • PARE (People with Arthritis / Rheumatism in Europe), London / Great Britain • FIBS – Forschungsinstitut für Bildungs- und Sozialökonomie, Berlin • BVPG – Bundesvereinigung Prävention und Gesundheitsförderung (Bundesministerium für Gesundheit / German Ministry of Health), Berlin / Bonn • Aktionsbündnis Nichtrauchen – ABNR, Berlin / Bonn • Deutsche Rheuma-Liga Landesverband Bayern e.V., München • Deutsche Rheuma-Liga Landesverband Nordrhein-Westfalen e.V., Essen • Deutsche Rheuma-Liga Landesverband Hamburg e.V., Hamburg • Rheuma-Liga Hessen e.V., Frankfurt am Main • Rheuma-Stiftung, Berlin • EAPB – European Association of Pharma Biotechnology, Berlin / Heidelberg • Coriolis Pharma GmbH, Munich
Contact:
Thomas Diller

Website:
www.diller-corporate.de