Henrik L. Luessen, Ph.D.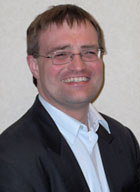 Managing Director, Tytonis B.V., Amsterdam, The Netherlands


Particular areas of expertise: Licensing, Corporate Strategy, Portfolio Strategy, Valuation, Marketing, Financing, IP Strategy, Due Diligence, Pharmaceutical Development, Drug Delivery
Henrik Luessen started Tytonis B.V. as Managing Director in January 2006. Prior to this, he joined the company OctoPlus (EuroNext: OCTO) in January 1999 as Director Business Development. During these seven years he commercially developed the company from a group of 16 employees with a core expertise in pharmaceutical development services of biopharmaceutical compounds to an organization of about 130 people that is today European market leader as a CRO in biopharmaceutical product development and has a portfolio of 3 own products in clinical trials. In his previous position he was Manager Corporate Development at LTS LOHMANN Therapie Systeme AG. At LTS he was involved in corporate strategy and responsible for business development in Asia and Australia. Furthermore, he was responsible for business development in the field of new platform technologies worldwide.
He obtained his Ph.D. at the Leiden/Amsterdam Center of Drug Research in Pharmaceutical Technology, funded by the German National Scholarship Foundation (Studienstiftung des Deutschen Volkes). He is the (co-)author of more than 30 international publications and patent applications in the field of drug delivery. He graduated as a Pharmacist at University of Hamburg and received later also the certification as a Dutch Pharmacist.
He is the Editor of the recently published books: »Starting a Business in the Life-Sciences: From idea to Market« and »Pulmonary Drug Delivery - Basics, Applications and Opportunities for Small Molecules and Biopharmaceutics« (both published by the ECV publisher house (www.ecv.de). He is heading the subject group »Pharmaceutical Biotechnology« at the APV (International Association of Pharmaceutical Technology, Germany) and gives on a regular basis courses in technical (e.g. parenteral formulation of protein products, pulmonary delivery) and business related subjects. Since December 2003 he is appointed as Governor of the Executive Board of the European Association of Pharmaceutical Biotechnology (EAPB). Furthermore, he is member of the CRS and AAPS.
Contact:
Henrik L. Luessen