Dieter Scherer, Ph.D.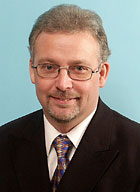 Managing Director, Apis Pharma AG, Basel, Switzerland


Particular areas of expertise: Licensing, Corporate Strategy, Portfolio Strategy, Valuation, Corporate Financing, IP Strategy, Due Diligence, Pharmaceutical Development, Drug Delivery, Setting-up Companies in Switzerland
Dieter Scherer started his company, ApisPharma, in September 2003. On the commercial side ApisPharma focuses on business development and licensing activities for small and medium sized companies active in the field of drug delivery based product development. Services range from market evaluation, value assessment of products, development of out-licensing strategy to identification of potential clients and contract negotiations. On the technical side, the focus is on the generation of new projects employing drug delivery for "therapeutic switches".
In the time period between 1997 and 2003 Dieter Scherer was working for SkyePharma, a Swiss Drug Delivery company. Initially he was responsible for licensing and business development. In this function he took the helm for the acquisition of nanotechnologies. He integrated the acquired technologies into the company as head of the steering committee. Subsequently, he was promoted to Director New Technologies and member of the European management team, reporting directly to the president of SkyePharma Europe. Responsibilities included evaluation of new technologies and preparation of the business plan for the planned Topical Business Unit. As head of the newly created business unit he built and managed the group within SkyePharma, initiated new projects internally as well as in-licensed new projects and established and managed alliances with specialized external development partners. Before joining SkyePharma he was working as Manager Business Development (1992-1997) for LTS Lohmann Therapy Systems, Germany, where he was part of the team that initiated and negotiated several out-licensing and development contracts with international partners.
Contact:
Dieter Scherer

Website:
www.apispharma.ch